The Amazon background has quietly launched a new feature – the official reminder, the seller can be assured of bold and rush to comment.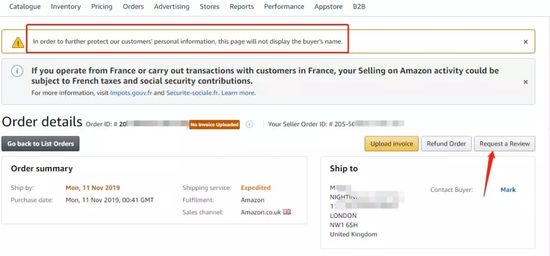 It is always a topic of concern for sellers about how Amazon's review is quickly acquired and platform policy changes. There are many ways to add comments to the tradition, in addition to various channel assessments, gray tactics customization, black means zombie merging, and the other is a liberation between legal and non-compliance.
Many sellers use the third-party reminder software to send a letter to the station, but as the customer chooses to block Amazon's message, the arrival rate of the mail is greatly reduced. There are still many sellers who take a wait-and-see attitude towards this kind of reminder, and they are afraid of passing the Amazon red line, because the legend of reminding the dead account has been lingering.
As shown in the following figure, Amazon's background order section suddenly has a "request a review" button. What is the function of "request a review"?

Simply put, if you want to ask the customer for an evaluation, just click on this function button to complete. Amazon will help you translate your claims email into a language that your customers can accept, or more straightforwardly, the language that Amazon can accept. That is, Amazon will have a special e-mail template, and then use his template to help you complete the work of the evaluation!
In addition, it should be noted that Amazon's mail template does not only need to review, even the feedback will help you! There is still time to pay attention to everyone, you can use this "request a review" function is within 4-30 days after the order is placed, don't forget this!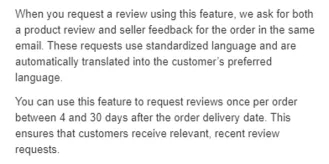 Regarding the impact of this change, I think that the most influential ones should be those software tool service providers who specialize in station trust evaluation. It is estimated that these service providers should be cool! Because Amazon did not explicitly say that the station's letter evaluation is in violation of the rules, but this new feature is introduced, it is equivalent to saying that it is possible to do the station letter evaluation, but must pass the Amazon "request a review" function to ask for Comment, if you go to the evaluation again, it is a violation of the rules, there is a very high risk of the title!
Although the self-review is more independent, the risk is also very high. Many friends are afraid of the accident and have given up the method of the station's letter evaluation. Now if you can use the new features of Amazon to evaluate, although the success rate of the cable is not guaranteed, the security is definitely 100%.